The Long Now Foundation's monthly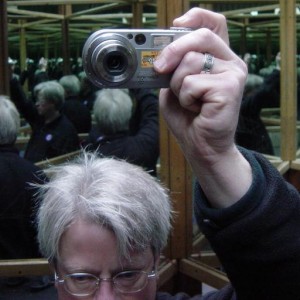 Rick Prelinger presents "Lost Landscapes of San Francisco, 11″
Tuesday December 6th & Wednesday December 7, 02016 at 7:30pm Castro Theater
Long Now Members can reserve 2 seats, join today! General Tickets $20
About this Seminar:
Our annual Lost Landscapes of San Francisco show with Rick Prelinger will run for 2 nights this year and a portion of the proceeds are going directly to support the Prelinger Library!
Members can reserve tickets on either Tuesday December 6 or Wednesday December 7, 02016; the show is at 7:30pm at the Castro Theater (doors are at 6:30pm) on both nights.
Tuesday 12/6/16: On Tuesday night, we'll be having our Long Now Winter Party for members and their guests after the show on the Mezzanine of the Castro Theater, with wine, beer and holiday snacks. Please join us to celebrate another year of thought-provoking Seminars and other Long Now achievements!
Wednesday 12/7/16: The Wednesday showing will also feature a presentation on the Prelinger Library. On both evenings you can purchase $50 Prelinger Library Patron Tickets, which include reserved seating in the theater. 100% of proceeds from the sale of these tickets go directly to the library!
The eleventh year of Lost Landscapes of San Francisco, the annual archival film program that celebrates San Francisco's past and looks towards its future.
This year's program features new scenes of San Franciscans working, playing, marching and partying during the Great Depression; unseen footage of Seals Stadium and the Cow Palace in the late 1930s; the reconstruction of Market Street and Embarcadero Plaza in the 1970s; rare footage of southeastern San Francisco and the Hunters Point drydock; the 1975 Gay Freedom Day parade; a 1940s-era ode to our fog; many more newly discovered gems; and greatest hits from past programs.
As always, the audience makes the soundtrack at the glorious Castro Theatre! Come prepared to identify places, people and events; to ask questions; and to engage in spirited real-time repartee with fellow audience members.
Part of your Lost Landscapes ticket price this year benefits Prelinger Library, San Francisco's famed experimental research library that supports artists, historians, community members, and researchers of all kinds. Your purchase of a Patron Ticket directly benefits the library.
Founded by Megan & Rick Prelinger in 02004, the Library contains over 60,000 books, periodicals, maps and ephemeral print items available for research and reuse. Prelinger Library is a community-supported resource open to the public, keeping regular hours in the South of Market neighborhood; details and hours at http://www.prelingerlibrary.org.