Evolution is a diligent innovator and the diversity it has achieved offers the curious seemingly unending marvels. In some cases, though, a particular innovation might not make much sense on initial consideration. In those cases, zooming out in time can be instructive.
Whit Bronaugh, writing for American Forests, demonstrates this using the concept of ecological anachronisms:
An ecological anachronism is an adaptation that is chronologically out of place, making its purpose more or less obsolete.
The concept was developed by ecologist Daniel Janzen (a former SALT speaker) and Bronaugh calls on the Osage-orange to bring it into focus.
The Osage-orange is a North American tree that produces large, lumpy fruit. Those fruit fall to the ground and rot, ignored rather than ingested and spread (along with their seeds), every fall. Other parts of the tree feature long thorns that do little to discourage deer from eating their foliage. These adaptations, it would seem, aren't adaptive at all, but rather strange, pointless wastes of energy. The tree's range across North America is known to have contracted over the last few millennia, so this view isn't entirely unfounded.
The fruit and the thorns, however, were adaptive when megafauna such as mammoths and gound sloths roamed the continent. The large fruit were a common part of the mammoth diet and the thorns were just the right size to discourage creatures much larger than deer from chewing up the leaves and branches. As Bronaugh explains,
It's true that such adaptations are now anachronistic; they have lost their relevance. But the trees have been slow to catch on; a natural consequence of the pace of evolution. For a tree that lives, say, 250 years, 13,000 years represents only 52 generations. In an evolutionary sense, the trees don't yet realize that the megafauna are gone.
Though in our lifetime, mammoths and ground sloths may seem long gone, the evolutionary moment in which we live still resonates with their presence. Perhaps a reprise is possible?
(Read: The Trees That Miss The Mammoths – American Forests)
In January 02013, we introduced you to slow journalist Paul Salopek, who is retracing the steps of our earliest human ancestors in a seven-year journey Out of Eden. Since then, Salopek has covered more than 4,000 kilometers (nearly 2,500 miles), from in Eastern Ethiopia to East Jerusalem. His route was, intentionally, sketched in broad strokes, but each of his Milestones and Dispatches have been pinned to a digital map that captures the sights, sounds, and stories of his long road from Africa to Patagonia.
The first map pin, at
Herto Bouri
, marks a dense archaeological site, where Australopithecus garhi, Homo erectus, and Homo sapiens idaltu made their homes 2.5 million to 160,000 years ago. Several of the Homo sapiens idaltu fossils bear the marks of (
possibly cannibalistic
) mortuary practices that included scraping the flesh from the skulls of the dead.
A
map-within-the map
in
Djibouti
, on the edge of the Red Sea, illustrates the ancient land bridges that carried our ancestors across the Red Sea into the Levant, and eventually into Southeast Asia and the Americas.
At Petra, the ancient stone city that is now Jordan's most popular tourist attraction, Salopek recorded a timeless dirge about the the ingratitude of children and the pain of old age. The singer, Qasim Ali, accompanied himself on the rababa, a 1200-year-old ancestor of the violin.
Four thousand kilometers from the ambiguously marked remains at Herto Bouri, Salopek reached Qafzeh Cave, on the slopes of Mount Carmel. This is the site of the first ceremonial human burial in the archaeological record—a teenaged boy with a red deer's antlers held fast against his chest.
As of June 02014, Salopek is in Jerusalem, the subject of another thematic map—one which covers a two-day, 23-mile trek around the ancient city. His most recent Dispatch, from the Palestinian neighborhood of Beit Hanina, tells the story of a traditional judge who negotiates settlements between families when a wrong has been done.
From Israel, Salopek will continue on to the Silk Road. We will continue to post updates on his progress, and have asked him to speak with us when his route brings him through the Bay Area in a few years. In the meantime, you can follow Salopek and the Out of Eden Walk on Twitter, Instagram, Facebook, Soundcloud, Vimeo, and Google+—or visit OutOfEden.com and the Out of Eden Walk site at NationalGeographic.com.
The Long Now Foundation's monthly
Adrian Hon presents
"A History of the Future in 100 Objects"
Wednesday July 16, 02014 at 7:30pm SFJAZZ Center
Long Now Members can reserve 2 seats, join today! General Tickets $15
About this Seminar:
Thinking about the future is so hard and so important that any trick to get some traction is a boon. Adrian Hon's trick is to particularize. What thing would manifest a whole future trend the way museum objects manifest important past trends?
Building on the pattern set by the British Museum's great book, A History of the World in 100 Objects, Hon imagines 100 future objects that would illuminate transformative events in technology, politics, sports, justice, war, science, entertainment, religion, and exploration over the course of this century. The javelin that won victory for the last baseline human to compete successfully in the Paralympic Games for prosthetically enhanced athletes. The "Contrapuntal Hack" of 02031 that massively and consequentially altered computerized records so subtly that the changes were undetected. The empathy drug and targeted virus treatment that set off the Christian Consummation Movement.
Adrian Hon is author of the new book, A History of the Future in 100 Objects, and CEO and founder of Six to Start, creators of the hugely successful smartphone fitness game "Zombies, Run!" His background is in neuroscience at Oxford and Cambridge.
"How do you deflect an asteroid? Simple…"
In June 02013 former astronaut Ed Lu discussed the very real future threat of asteroids striking the Earth and efforts by himself and the B612 Foundation to keep the planet safe. It turns out that detecting them is the hard part. Twice a month we highlight a Seminar About Long-term Thinking (SALT) from our archives.
Video of the 12 most recent Seminars is free for all to view. Anthropocene Astronomy: Thwarting Dangerous Asteroids Begins with Finding Them is a recent SALT talk, free for public viewing until late July 02014. SALT audio is free for everyone on our Seminar pages and via podcast. Long Now members can see all Seminar videos in HD.
From Kevin Kelly's summary of this Seminar (in full here):
What are we looking for? Asteroids that Lu calls "city killers" are about the size of a theater—an airburst of one could destroy the whole San Francisco Bay Area. In our children's lifetime the chance of impact from one of these is about 30 percent. In the same period there is a 1 percent chance of an asteroid impact equivalent to all the bombs in World War II times 5; it could kill 100 million people.

We buy fire insurance against risk with lower probability than that. Then there's a kilometer-size asteroid, which would destroy all of humanity permanently. The chance of collision with one in our children's lifetime—.001 percent.
Ed Lu is CEO and co-founder of the B612 Foundation. As an astronaut he earned NASA's highest honor: The Distinguished Service Medal and in his 3 missions logged 206 days in space while constructing and living aboard the International Space Station. From 02007 to 02010, he led the Advanced Projects group at Google developing imaging technology for Google Earth/Maps and Google Street View amongst other projects.
The Seminars About Long-term Thinking series began in 02003 and is presented each month live in San Francisco. It is curated and hosted by Long Now's President Stewart Brand. Seminar audio is available to all via podcast.
Everyone can watch full video of the last 12 Long Now Seminars (including this Seminar video until late June 02014). Long Now members can watch the full ten years of Seminars in HD. Membership levels start at $8/month and include lots of benefits.
Tickets are on sale for Science Fiction to Science Fabrication July 1, 02014 at The Interval
Artist/maker/hacker Dan Novy (Novysan) is an Emmy award-winning transmedia storyteller with a background in theater, a host of film and television credits, and a research/PHD-candidate position at the MIT Media Lab. Last fall he and his colleague Sophia Bruckner taught Science Fiction to Science Fabrication (aka "Pulp to Prototype") at the Lab; their students read classic and contemporary science fiction and then built prototypes based on the worlds they'd read about.
The authors they read included J. G. Ballard, Arthur C. Clarke, Warren Ellis, Daniel Suarez and William Gibson. The point was that the fantastic future worlds of speculative fiction are often essential precursors to real world technology. Novy's own work in Immersive Display technologies and Non-Invasive Narrative Neurostimulation has drawn inspiration directly from the works of Neal Stephenson and Ray Bradbury. He'll tell us more about the class and share some thoughts about the Manual for Civilization as well.
This event is part of a new series of salon talks at The Interval. Next up in the series is Violet Blue on Tuesday, June 17 discussing long-term online privacy models and her latest book The Smart Girl's Guide to Privacy. Tickets are still available.

The Interval at Long Now is Long Now's new home which is now open seven-days-a-week. A cafe and museum by day and with a cocktail, beer, and wine menu after 5pm, The Interval features art designed by Brian Eno and artifacts from our 10,000-year Clock. Several Tuesday nights a month The Interval hosts salon events.

photo by Catherine Borgeson
After years of planning and a full year under construction, we are proud to announce our new venue The Interval at Long Now opens its doors to the public this Sunday, June 15th 02014. Come visit us soon. We'll be open daily from 10AM to midnight at our location in historic Fort Mason Center on San Francisco's north shore.
Photo by Because We Can
The Interval is full of artifacts of Long Now's projects including the 10,000-year Clock and Rosetta Project. We serve fine tea from Samovar Tea Lounge and Sightglass coffee during the day. At night our drink menu designed by Jennifer Colliau is inspired by time and the history of the cocktail.
We're also proud to feature an ambient painting and sound designed by Brian Eno who is one of the co-founders of Long Now. Our ever-growing Manual for Civilization now includes more than a thousand books on floor-to-ceiling shelves throughout the space. And more are being added as we acquire them with the help of our partners at Borderlands Books and Friends of the San Francisco Public Library.
We've launched TheInterval.org with more details about our new venue including the lineup of upcoming salon talks and other ticketed events. Next up is a special pre-opening talk by Rachel Sussman about her book The Oldest Living Things in the World this Friday. Talks will typically be on Tuesday nights and we recommend purchasing tickets in advance.
We've given you a virtual tour of our new bar, cafe, and event venue earlier, but here are more recent photos from pre-opening events at The Interval. It looks even better with people in it.
photos by William McLeod (unless otherwise noted)
As we open we are also completing the crowdfunded 'brickstarter' to support the costs of this renovation. Donations are tax-deductible and help us complete the final details of The Interval including acquiring all the books for the Manual for Civilization library.
Please consider a donation–we have many gifts to thank you for your generosity including Challenge Coins, Long Now flasks, and specially hand-crafted gin and whiskey from St George Spirits.
Next up in Long Now's newly launched series of salon talks is author/blogger Violet Blue who will use her latest book The Smart Girl's Guide to Privacy as a starting point to talk about tech, gender and long-term sustainable privacy models on Tuesday, June 17 at The Interval, our new public space at Fort Mason Center in San Francisco.
The Smart Girl's Guide to Privacy is a guidebook for how to keep your online personal life under your own control with advice for reducing vulnerability to identity theft, being smarter about social media, and how to keep from being hacked. Plus what to do if you are hacked (or worse). It covers fundamental and advanced privacy topics with a focus on the privacy needs of women. It has been recommended by the Electronic Frontier Foundation.
Written in plain, user-friendly language and covering everything from revenge porn to identity theft to online dating, The Smart Girl's Guide to Privacy is specifically geared toward women and other vulnerable members of the online population, who need guidance navigating the murky, often treacherous waters of the Internet.
— The Daily Dot

The beauty of Blue's book is that its useful for readers with varying levels of online privacy knowledge. It doesn't gloss over the small stuff, like why giving out your name and phone number poses a threat, yet it speaks to more complex issues, like navigating the legal system and the internet when you need photos taken down from a site. The result is an engaging, timely, and instructive read that gets women up to speed on the privacy measure they need to take.
— Online Privacy Blog, from Abine.com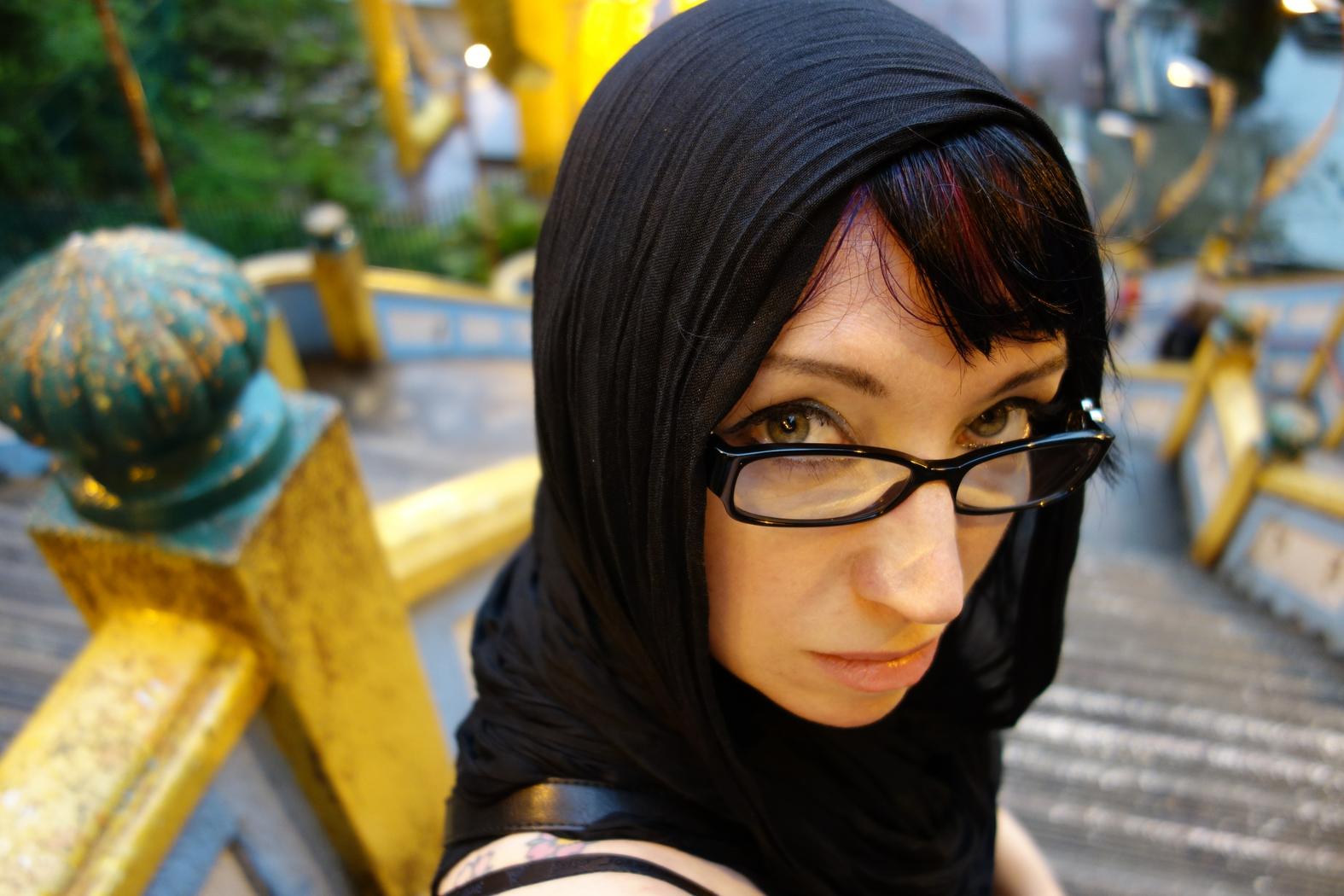 Violet Blue writes for ZDNet, CNET, and CBSNews (previously Oprah Magazine, MacLife, SF Appeal and the San Francisco Chronicle). She has written 40+ books and her sexuality blog TinyNibbles is awarded, infamous, and Not Safe For most Works. She took part in Long Now's Long Conversation in 02010 and recommended books for the Manual for Civilization.
Interval donors hear about our events first: there's still time to become a charter donor.
The European Space Agency's Rosetta probe has sent some great images back to Earth illustrating its approach as it has pulls to within 2 million kilometers of 67P/Churyumov-Gerasimenko the comet it is targeting. Later this year it will drop a lander on the comet to conduct important experiments on its composition–more on that below.
During development of the mission the ESA invited Long Now to include one of our Rosetta Disks on the probe. And so this ESA mission is not only the most detailed comet researcher ever, it is also the first off-world archive of thousands of human languages.
The Rosetta Project is Long Now's initiative for long-term archiving of human languages. The disk includes parallel texts (inspired by the original Rosetta Stone) and thousands of pages of information documenting languages from all over the world. The Rosetta disk that is on the probe is an early prototype, a more recent design is shown below:

photo by Laine Stranahan
The Rosetta space probe had been in hibernation since 02011, having completed several flybys and slingshot maneuvers after being launched in 02004. San Francisco's Exploratorium marked the ESA's successful re-awakening of the probe in January and continues to follow its journey. Last month Exploratorium Senior Scientist Paul Doherty spoke with Rosetta Project Scientist Claudia Alexander about recent developments and what scientists hope to learn from this up-close look at a comet.
Comets generally have very eccentric orbits, meaning they travel in very squished ellipses, rather than perfectly round circles. That eccentricity causes the comets to oscillate between the outer reaches of the solar system and relatively close passes by the Sun. Comet 67P is on its way in toward the Sun right now and that means it's heating up. This causes ice to melt and boil and eject gas and dust from the comet's nucleus, creating the characteristic comet tail. The Rosetta mission will orbit 67P for 17 months, through its closest approach to the Sun and then out again. This will provide an unprecedented level of detailed data as the comet goes through the significant changes caused by drastic changes in temperature.
After 17 months of orbit and study from above, the plan is for Rosetta's Philae lander to drop onto the comet itself in November. It will drill into the surface of the comet and perform experiments to learn more than ever before what composes a comet. And you can follow its progress on Twitter.
This lecture was presented as part of The Long Now Foundation's monthly Seminars About Long-term Thinking.
Tuesday May 20, 02014 – San Francisco
*********************
*********************
Oceans alive – a summary by Stewart Brand
Neither of them eats fish.
Both marine biologists applaud the improved regulation of American fishing and the resulting recovery of important fisheries, but they note that 90% of our seafood is imported, and one-third of that is caught illegally. Two-thirds of global fisheries are overfished. Eating a tuna, Earle points out, is like eating a wolf or a tiger. It is a magnificent predator often decades in age. We no longer commercially harvest wildlife on land. Why do we do it in the sea?
Noting that 15% of land has become protected in the last 100 years, the speakers said we have just started on protecting the ocean. About 3% is now protected, in 8,000 Marine Protected Areas. The goal is 20% by 2020. One hero of the movement is Palau's president Tommy Remengesau, who this year declared that commercial fishing would be banned in its entire ocean economic zone—230,000 square miles. Likewise New Caledonia just created a 500,000 square mile "Natural Park of the Coral Sea."
Ocean science keeps yielding profound discoveries. A sea-going photosynthetic bacteria named Prochlorococcus was identified as recently as 1986, yet it may be the most abundant photosynthetic species on Earth, responsible for 5-10% of all the oxygen in the atmosphere. Without their ancestors we wouldn't exist. Deep-diving Earle noted that daylight only reaches about 1,000 feet down in the ocean. Most of the world's life therefore lives in total darkness, and "bioluminescence is the most common form of communication on Earth."
Thys observed that the greatest need is for coordinated, consistent remote-sensing in the ocean, and that is increasingly being provided by small robots that travel on their own on and under the surface, sending their data to satellites as well as cabled observatories. Small satellites also are multiplying, providing daily, detailed information from above. Citizen science is growing along with the Maker movement.
"Life came from the ocean," Thys concluded. "And the life in it continues to nurture life everywhere. We owe the ocean some nurture back."
Subscribe to our Seminar email list for updates and summaries.
The oldest living things in the world are a record and celebration of the past, a call to action in the present, and a barometer of our future, writes artist and SALT speaker Rachel Sussman in The Oldest Living Things in the World.
When Rachel spoke for Long Now in 02010 her book on organisms that have lived 2 millennia or more was only partially complete. Four years later The Oldest Living Things in the World is published and on the New York Times Best Seller list.
And as we prepare to welcome her back to San Francisco this month, we thought we'd take a closer look and a deeper read of this remarkable book.
Over the past decade, Sussman has been searching the planet to photograph continuously living organisms that are 2,000 years or older. She begins at year "0" and travels backwards from there, capturing millennia of living past in a fraction of a second. She writes in her book:
These ancient survivors have weathered the millennia on every continent, in some of the world's most extreme environments, enduring ice ages, geologic shifts, and humans' spread across the planet. Many are so small that you could walk right over them, none the wiser. Others are so large that you can't help but stand in awe before them. I've photographed thirty different species, ranging from lichens in Greenland that grow only one centimeter every hundred years, to unique desert shrubs in Africa and South America, a predatory fungus in Oregon, brain coral in the Caribbean and an 80,000-year-old colony of aspen in Utah. I journeyed to Antarctica for 5,500-year-old moss, and to Tasmania for a 43,600-year-old clonal shrub that is the last individual of its kind, rendering it simultaneously critically endangered and theoretically immortal.
Sussman's project also explains what it means to be in the year 02014 and the temporal tension that comes with photographing Deep Time. She uses the analogy of being in deep water–just like deep water, it is a battle to stay in Deep Time:
"It's difficult to stay in Deep Time – we are constantly drawn back to the surface. This vast timescale is held in tension with the shallow time inherent to photography. What does it mean to capture a multi-millennial lifespan in 1/60th of a second? Or for that matter, to be an organism in my 30s bearing witness to organisms that precede human history and will hopefully survive us well into future generations?"
This 5,500-year-old moss bank lives right around the corner from where the Shackleton Expedition was marooned 100 years ago on Elephant Island, Antarctica. It was a victory simply being able to locate it. These days it's easier to get to Antarctica from space. (Rachel Sussman via Time)
She has long been interested in the relationship between humanity and nature and expressed that through making landscapes. Contrary to what the book title may suggest, Sussman does not look at her subjects as "things" but over time came to see them as individuals. Instead of focusing on the aesthetics or the composition of landscape photography, she found herself creating portraits of these individuals. Her task became to capture their essence and spirit in order to better connect with them and through them to connect with Deep Time:
I approach my subjects as individuals of whom I'm making portraits. There's a way to anthropomorphize the experience of these ancient organisms that have bore witness to millennia, which is something that is so outside of our human understanding of what a life span is–it is so outside of our temporal comfort zone.
This 9,950-year-old tree is like a portrait of climate change. The mass of branches near the ground grew the same way for roughly 9,500 years, but the new, spindly trunk in the center is only 50 or so years old, caused by warming at the top of this mountain plateau in Western Sweden. (Rachel Sussman via Time)
The end result of Sussman's 10-year project is an archive; one that is part art and part science. Her book contains 120+ photos of the thirty subjects. Accompanying the photographs, Sussman writes of her personal journeys searching for these ancient organisms with insights from scientists who research each of them. Her essays weave together scientific explanations with artistic portraits, and invite the reader to understand and partake in her experience. The multiple layers of her work interconnect to help conceptualize the experience of being alive for thousands of years.
Lichens in Greenland that grow only one centimeter every hundred years.
Sussman writes about her experience photographing The Senator, a now-deceased Bald Cypress whose 3,500-year life was ended by a man-caused fire. In another adventure she had overcome her fear of deep water and learn to scuba dive (while injured) in order to photograph the 2,000-year-old Brain Coral, the first member of the animal kingdom she encountered to surpass the two-thousand year mark.
The Siberian Actinobacteria (pictured above) is believed to be the oldest continuously living thing, dating somewhere between 400,000 and 600,000 years old. It lives underground in the permafrost where the colony was found by planetary biologists who were looking for clues to life on other planets by investigating one of the most inhospitable places on Earth.
Over the course of their investigation, they found that these remarkable bacteria are actually doing DNA repair at temperatures below freezing, meaning that they are not dormant; they have been alive and slowly growing for half a million years.
This puts the life of a 5,000-year-old Bristlecone Pine into perspective, which is also featured in her book as the "oldest unitarian organisms."
Sussman's approach evolved as her work spanned multiple years, disciplines, continents and personal struggles.
I don't think it would be the same if I had just used a checklist and went around the world and was done in a year. There is something about over the years wanting to do justice to this work. I realized I needed to keep myself in the story and to be vulnerable. It's not an overly personal story but just that I'm a character in it. People need to have an entry point where they can connect. That's really the point of looking at these organisms as individuals. But also the window is partially being pulled open by me as a person who is trying to communicate something that I've experienced, or learned, or some philosophical musing, or just how hard it was. I think it's a way to remind people that nature and this idea of Deep Time are not so distant from our everyday lives. All of these things are intertwined and you bounce back and forth between the here-and-now and long-term thinking. The longer I've spent thinking about Deep Time and these old organisms, I find it now easier to connect with that.
Artist Rachel Sussman (photo by Victor G. Jeffreys II)
Long Now is proud to bring Rachel back to San Francisco for two very special events: on June 12th, 02014 with fellow photographer Mario Del Curto discussing photography and the natural world at swissnex. And then on June 13th Rachel appears at The Interval, Long Now's new venue at Fort Mason, to talk about the book and her experience creating it.
We hope you'll join us for one or both of these opportunities to see Rachel Sussman in person and hear more about her remarkable work.
---