We know that the American West was once much wetter than it is today; the region is riddled with ancient lake beds and fossilized aquatic creatures. At some point in the last 15,000 years, these inland seas disappeared and turned to desert – but exactly when this happened was not well known.
Until recently: a group of MIT researchers has discovered that the American west must have dried up just about 8,200 years ago – and that it did so relatively rapidly.
They came to this conclusion by studying stalagmites found inside a cave in the Nevada Great Basin. Stalagmites – rock formations that grow upwards on the floor of a cave from material that drips down from the ceiling – are "deposited in layers, kind of like stacked traffic cones," says David McGee, an MIT paleoclimatologist and leader of the research team.
"Each year's drips make a new coating, and when you cut them open, they have a very clear set of layers, and a clear sense of this is older, this is younger. So they have stratigraphy to them, which is important to us."
The team was able to date each layer by calculating its ratio of Uranium to Thorium isotopes – a common way to determine the age of limestone. The researchers then looked at the mineral composition of each layer, and realized that it gave an indication of the moisture content that must have been present in the soil above ground at the time each layer was deposited. "I've heard stalagmites called 'fossilized groundwater,' and that's essentially what they are," McGee explains. "Groundwater is percolating through the soil and rock, gets to the cave and drips out, and precipitates this stalagmite. The chemistry of that groundwater tells us something about the conditions outside the cave." Groundwater contains large quantities of calcium and magnesium. As it seeps downward through the soil it leaves that calcium behind, leaving the water that ultimately drips into the cave with a relatively high concentration of magnesium. The research team realized that a drier climate slows down this percolation of water through soil, resulting in more calcium deposits in the ground, higher magnesium concentrations in the water that entered the cave, and thus higher levels of magnesium in the stalagmite layers that correspond to a dry period.
Analysis revealed a marked and steep rise in the concentration of magnesium in stalagmite layers that began about 8,200 years ago. It marks a major climatic change – one that must have affected the way people lived at the time. Exactly what caused this drying out remains a mystery, though McGee has an idea:
One of the big things that was happening at this time worldwide was the collapse of the last vestiges of this big ice sheet in Canada," McGee says. "An ice sheet is thought to have important effects on where the jet stream goes. By having this ice sheet here, it made it so the jet stream was more likely to bring storms into the American West, and when it collapsed, the region became more like it is today.
The MIT study complements other ongoing analyses of long-term Great Basin climate change, including ones that are hosted and facilitated by Long Now itself: our Nevada property is one of several field locations used by researchers Scotty Strachan and Matt Salzer (pictured below), who study bristlecone core samples and weather station data to study long-term trends in weather patterns – such as moisture content in the air, or the amount of sunlight per year – across a variety of Great Basin microclimates.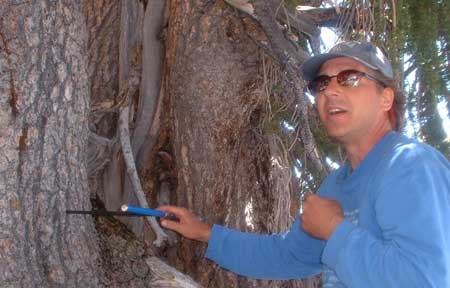 Studies like these not only help us understand how our landscape came to look the way it does, but also create a larger picture for us of long-term climate change and its impact on human civilization – much like former SALT speaker
Stefan Kroepelin
does in the Sahara. This larger picture can help us better assess the meaning of more short-term weather fluctuations, and help us predict what may happen – and how we should respond – as we see our planet warming up.
We have arranged discounts for our members at 2 upcoming events in San Francisco; the STEAM Carnival and the Real Future Fair, where our Executive Director Alexander Rose will be speaking.
If you're a member, more info on both of these events and instructions on how to access your member discount can be found in your inbox. We hope to see at either these events or one of our upcoming Seminars or Interval talks!
STEAM Carnival is 100,000 square feet of fun taking place at Pier 48 in San Francisco, November 6-8, 2015. The event captures the imaginations of adults and kids alike with a special focus on igniting interests in Science, Technology, Engineering, Art and Math (STEAM). The event features high-tech games, interactive installations, dynamic build zones, round the clock stage shows, lab demos, aerialists, artists, food, and more. The event is open from Friday from 10am-5pm, and Saturday & Sunday from 10am-6pm at Pier 48 at AT&T Park.
Check your email for a code to save $5 on tickets, which are available here.
The Real Future Fair will be held at the Innovation Hangar in San Francisco on Friday November 6 and Saturday November 7, 02015. Long Now's Executive Director Alexander Rose will be speaking on Saturday afternoon at 4:00pm.
On Friday, The Real Future Forum presents "creative conversations about how technology is changing our world", followed by a Robot Cocktail party. Saturday is The Real Future Fair, "a day-long civic event, featuring drone demonstrations, a robot petting zoo, a retro future film screening and programming from Code for America, the Bay Area Video Coalition, Counterpulse and The Long Now Foundation."
Members receive 40% off of ticket prices with the discount code in your inbox, tickets available here.
Just off the coast of Australia, a few miles west of Perth, lie three small limestone islands. Today they're a popular destination for boat trips and air taxis, but a local Aboriginal tribe tells stories of a time when these three isles were connected to the mainland by lush forest. One day, the stories recount, those trees caught fire. They burned "with such intensity that the ground split asunder with a great noise, and the sea rushed in between, cutting off these islands from the mainland."
Along Australia's Southern coast, another Aboriginal community tells an old story about marital strife, in which an angry ancestral figure called Ngurunderi chased his wives across the tribe's territory until they sought refuge on a piece of land known today as Kangaroo Island. To punish his wives, Ngurunderi caused the seas to rise and turned his wives into large coastal rocks. The last time anyone would have been able to travel to Kangaroo Island on foot was about 10,000 years ago, when sea levels were about 100 feet lower than they are today.
That time span begins to enter the realm of the mythic. Few, if any, man-made things survive that long, let alone an oral anecdote about the environment. Does that mean, then, that these stories are just that – fairy tales of the kind we all grow up with? Nicholas Reid and Patrick Nunn think not. A linguist and geologist, respectively, Reid and Nunn collected similar stories from all over Australia. Matching each of them successfully to actual historical changes in the continent's shoreline, they argue that these narratives originate in fact – and that they must, therefore, have been passed from generation to generation for many thousands of years, all without the aid of being written down.
Throughout human history, oral narratives have been an important way for communities to pass knowledge from generation to generation. Many of the oldest epics known to us today – that of Gilgamesh, the Odyssey, or the Mahabharata, to name just a few – lived long lives as oral poems before they were ever committed to paper. The blend of flowery language, rhyme, and meter so typical of these stories helped narrators commit them to memory, and brought them to life for communities with every telling. In this way, oral poetry long served as a central repository of shared beliefs, values, and knowledge for pre-literate societies around the world. They offered a sense of intergenerational continuity, and helped communities understand their history and their world.
The oldest epics known today are a few millennia old, but none come close to the age Reid and Nunn suggest for these Aboriginal tales – the team estimates most of them to be between 8,000 and 12,000 years old, to match the sea level changes they purportedly recount. This stretch of time would be unprecedented, but not necessarily impossible. If the knowledge conveyed in a story is considered important enough to a community's sense of identity, for example, its narrative is likely to keep being told and retold from generation to generation. And if a society places more value on accuracy than on creative innovation, its tales are less likely to evolve much in their content. Reid and Nunn argue that both are true of Aboriginal cultures:
Reid says clans have very specific mechanisms for teaching people to tell oral histories, as well as tasking others to ensure the orator tells stories accurately. For instance, when children are told tales by their parents, they are tasked with quizzing the details and cross-checking them with their grandparents. "People take these relationships very seriously," says Reid. "The beauty of the relationship is that it is cross-generational and that provides a kind of scaffolding that's very successful at keeping stories accurate, not succumbing to a [game of telephone] effect." This feature of oral tradition appears to be specific to Australia.
The possibility that these stories are truly as much as 12,000 years old does not yet prove their factuality. Investigating whether these tales originate in truth will involve analyzing the likelihood that disparate Aboriginal tribes across Australia would have all simply conjured mythic stories about rising sea levels – or that a single story would have been shared and adapted by societies across the continent. Reid and Nunn believe it's more plausible that each community would have witnessed such flooding in their own territory and considered it momentous enough to pass the experience on to their descendants. They argue that the narratives are too similar across groups who are unlikely to have exchanged tales with one another; and too specific to local contexts to have been borrowed from elsewhere.
How do we know that these stories are authentic? We suggest that because they all say essentially the same thing, it is more likely that they are based on observation. All tell of the ocean rising over areas that had previously been dry. None tell stories running the other way – of seas falling to expose land. The huge distances separating the places from which the stories were collected – as well as their unique, local contexts – makes it unlikely that they derived from a common source that was invented.
In the end, the factuality of stories like these may be impossible to determine, and the definition of 'authenticity' may be up for debate. With narratives this old, the distinction between 'myth' and 'fact' may have simply faded, or disappeared altogether. Myth can become a means to convey the emotional force of long-ago experiences, events witnessed by ancestors so old that they've become more abstract than real. In turn, historical snippets or location-specific details may be woven into mythic stories to aid their resonance with listeners. But whether you choose to class these tales as fact or fiction, the research done by Reid and Nunn does suggest that oral narratives should never be dismissed as irrelevant to our understanding of local histories. However you define "truth," such stories can be repositories for cultural knowledge, beliefs, and shared experiences across massive stretches of time – they become the stuff of a community's long-term continuity.
This paper makes the case that endangered Indigenous languages can be repositories for factual knowledge across time depths far greater than previously imagined … forcing a rethink of the ways in which such traditions have been dismissed.
The Long Now Foundation's monthly
Philip Tetlock presents "Superforecasting"
Monday November 23, 02015 at 7:30pm SFJAZZ Center
Long Now Members can reserve 2 seats, join today! General Tickets $15
About this Seminar:
The pundits we all listen to are no better at predictions than a "dart-throwing chimp," and they are routinely surpassed by normal news-attentive citizens. So Philip Tetlock reported in his 02005 book, Expert Political Judgement—and in a January 02007 SALT talk.
It now turns out there are some people who are spectacularly good at forecasting, and their skills can be learned. Tetlock discovered them in the course of building winning teams for a tournament of geopolitical forecasting run by IARPA—Intelligence Advanced Research Projects Activity. His brilliant new book, SUPERFORECASTING: The Art and Science of Prediction, spells out the methodology the superforecasters developed. Like Daniel Kahneman's THINKING, FAST AND SLOW, the book changes how we think about thinking.
Philip Tetlock is a professor at the University of Pennsylvania. With his co-researcher (and wife) Barbara Mellors he is running the Good Judgement Project, with its open competition for aspiring forecasters.
University of St. Thomas in St. Paul Minnesota is hosting a new exhibit Designed to Last: A Look at the Projects of the Long Now Foundation through December 18th 02015. The exhibit features a Rosetta Disk, limestone core samples from The Clock site, and the prototype of the Solar Synchonizer of The 10,000 Year Clock. Long Now artifacts rarely travel, so this is a unique opportunity to see these objects outside of California.
On November 3rd, Dr. Laura Welcher will be in travelling to St. Thomas to give a presentation on the Rosetta Project and other projects of The Long Now Foundation. The talk is at 7pm in auditorium 3M, open to the public, with a reception and viewing of the exhibition beginning at 6pm. Long Now Members are invited to both the talk and reception.
This exhibition will also be home to the "UST Library for Civilization," a collection of books suggested by St. Thomas faculty and staff that is modeled after our own "Manual for Civilization". Suggested books will be purchased, given a bookmark with the name of the faculty or staff member who suggested it and why they suggested it, and put on display. At the end of the semester, St. Thomas students will be invited to take a book of their choice.
The exhibition itself is open through the end of the fall semester and can be found on the third floor of the Facilities and Design Center building.
Long Now members can tune in for a live audio simulcast of this sold out event starting at 7:15 PT, October 27
Andy Weir author of The Martian speaks in Long Now's "Conversations at The Interval" series this Tuesday. Andy will talk about the real science of a Mars colonization mission. What would Martian colonization really be like? What would it take to get us to the red planet? What would we do to establish a colony once we landed?
Andy will speak live at The Interval, Long Now's cafe/bar/museum/headquarters in San Francisco. We will stream his talk live (and free) for Long Now members on the member site. Then Long Now's Peter Schwartz will interview Andy onstage. We'll have copies of The Martian on sale and Andy will sign books after he speaks.
Tickets to this event sold out quickly, as our Interval talks often do. Due to the huge interest we will be live audio-streaming Tuesday's talk for members. We also livestream our monthly SALT series as a free benefit for our members.
Long Now members can tune in for a live audio simulcast at 7:15 PT on October 27
Current Long Now members, just login on the member site. You can join Long Now for just $8/month; benefits includes tickets to Seminars, HD video of 12 years of Long Now talks, and many other perks.
While we don't currently live stream all our Interval event, we hope to do so increasingly in the future. We also plan to release Interval talks as podcasts and video on the Long Now site (similarly to our Seminar series). Long Now is seeking a major sponsor to fund the cost of producing this series to the standard of our Seminar media. Sponsorship inquiries are welcome.
Long Now is proud to be a co-partner with YBCA in showing "Troublemakers: The Story of Land Art". The film will be shown at 7:30 PM on Thursday October 29 and 2:00 PM on Sunday November 1 at YBCA's Screening Room.
Troublemakers unearths the history of land art, featuring a cadre of renegades who sought to transcend the limitations of painting and sculpture by producing earthworks on a monumental scale. Iconoclasts who changed the landscape of art forever, these revolutionary, antagonistic creatives risked their careers on radical artistic change and experimentation, and took on the establishment to produce art on their own terms. The film includes rare footage and interviews which unveil the enigmatic lives and careers of storied artists Robert Smithson (Spiral Jetty), Walter De Maria (The Lightning Field), and Michael Heizer (Double Negative). (2015, 72 min, digital)
Long Now Members get $8 discounted tickets to the screening, check your email for instructions on how to reserve your discounted member tickets. Troublemakers will be shown in other cities as well, check here for your local screening.
This lecture was presented as part of The Long Now Foundation's monthly Seminars About Long-term Thinking.
Tuesday, October 6 02015 – San Francisco
*********************
*********************
Infrastructure investment tricks – a summary by Stewart Brand
All societies under-invest in their infrastructure—in the systems that allow them to thrive. There is hardware infrastructure: clean water, paved roads, sewer systems, airports, broadband; and, Fallows suggested, software infrastructure: organizational and cultural practices such as education, safe driving, good accounting, a widening circle of trust. China, for example, is having an orgy of hard infrastructure construction. It recently built a hundred airports while America built zero. But it is lagging in soft infrastructure such as safe driving and political transition.
Infrastructure always looks unattractive to investors because the benefits: 1) are uncertain; 2) are delayed; and 3) go to others—the public, in the future. And the act of building infrastructure can be highly disruptive in the present. America for the last forty years has starved its infrastructure, but in our history some highly controversial remarkable infrastructure decisions got through, each apparently by a miracle—the Louisiana Purchase, the Erie Canal, the Gadsden Purchase, the Alaska Purchase, National Parks, Land Grant colleges, the GI Bill that created our middle class after World War II, and the Interstate highway system.
In Fallows' view, the miracle that enabled the right decision each time was either an emergency (such as World War II or the Depression), stealth (such as all the works that quietly go forward within the military budget or the medical-industrial complex), or a story (such as Manifest Destiny and the Space Race). Lately, Fallows notes, there is a little noticed infrastructure renaissance going in some mid-sized American cities, where the political process is nonpoisonous and pragmatic compared to the current national-level dysfunction.
By neglecting the long view, Fallows concluded, we overimagine problems with infrastructure projects and underimagine the benefits. But with the long view, with the new wealth and optimism of our tech successes, and expanding on the innovations in many of our cities, there is compelling story to be told. It might build on the unfolding emergency with climate change or on the new excitement about space exploration. Responding to need or to opportunity, we can tell a tale that inspires us to reinvent and build anew the systems that make our society flourish.
Subscribe to our Seminar email list for updates and summaries.
This lecture was presented as part of The Long Now Foundation's monthly Seminars About Long-term Thinking.
Monday September 21, 02015 – San Francisco
*********************
*********************
Green infrastructure – a summary by Stewart Brand
Griffith began with an eyeroll at the first round of responses in the US to reducing greenhouse gases, a program he calls "peak Al Gore." Some activities feel virtuous —becoming vegetarian, installing LED lights, avoiding bottled water, reading news online, using cold water detergent, and "showering less in a smaller, colder house"—but they demand constant attention and they don't really add up to what is needed.
Griffith's view is that we deal best with greenhouse gases by arranging our infrastructure so we don't have to think about climate and energy issues every minute. Huge energy savings can come from designing our buildings and cars better, and some would result from replacing a lot of air travel with "video conferencing that doesn't suck." Clean energy will mostly come from solar, wind, biofuels (better ones than present), and nuclear. Solar could be on every roof. The most fuel-efficient travel is on bicycles, which can be encouraged far more. Electric cars are very efficient, and when most become self-driving they can be lighter and even more efficient because "autonomous vehicles don't run into each other." Sixty percent of our energy goes to waste heat; with improved design that can be reduced radically to 20 percent.
Taking the infrastructure approach, in a few decades the US could reduce its total energy use by 40 percent, while eliminating all coal and most oil and natural gas burning, with no need to shower less.
Subscribe to our Seminar email list for updates and summaries.
Long Now members can tune in for a live audio simulcast of this sold out event starting at 7:15 PT, September 29
Veteran technology writer John Markoff speaks in Long Now's "Conversations at The Interval" series this Tuesday. He will discuss his new book Machines of Loving Grace: The Quest for Common Ground Between Humans and Robots which covers the birth of artificial intelligence in the 1950s all the way up to the consumer and industrial robotics innovations of today. Long Now's Paul Saffo will interviewed Markoff onstage.
Tickets to this talk sold out very quickly, as our Interval events often do. Due to the huge interest in this event, Long Now will be live audio-streaming Tuesday's talk for members.
You can join Long Now for just $8/month which includes tickets to Seminars, HD video of 12 years of Long Now talks, and many other benefits.
Current Long Now members, just login on the member site. The stream will begin at 7:15pm Pacific.
Machines of Loving Grace is the first comprehensive study to place [robots] in the context of the cloud-based intelligence
—George Dyson, author of Turing's Cathedral: The Origins of the Digital Universe
In recent years, the pace of technological change has accelerated dramatically, posing an ethical quandary. If humans delegate decisions to machines, who will be responsible for the consequences? Drawing on his forty years covering the tech industry, Markoff conducted numerous interviews and extensive research to assemble this history and poise key questions about how we will cohabitate with our robotic creations.
Long Now members can tune in for a live audio simulcast at 7:15 PT on September 29
This will be the third time we have live streamed an Interval event. Due to our limited resources, it is not possible to do so for most talks. We do plan to release Interval talks as podcasts and video on the Long Now site (similarly to our Seminar series).
We also plan to stream the talk by Andy Weir author of The Martian which takes place at The Interval on October 27, 02015. Tickets will go on sale for that talk two weeks beforehand and we expect it will sell out quickly.
Long Now is looking for a major sponsor to fund the cost of producing the series to the standard of our Seminar media. We are also seeking a sponsor to support more regular streaming of Interval events. Sponsorship inquiries are welcome.
---