Last year I had the opportunity to give a talk and tour of the US Naval Observatory in Washington DC at the invitation of Demetrios Matsakis, the director of the U.S. Naval Observatory's Time Service department.  The Naval Observatory hosts the largest collection of precise frequency standards in the world, and uses them to, among other things, keep services like internet time and the global positioning system in your phone running correctly.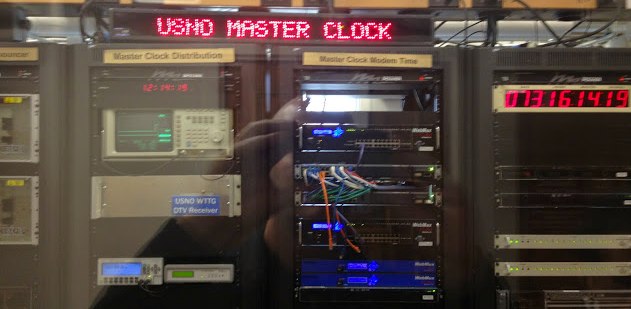 The USNO Master Clock is actually an average of many timing signals
The US Naval Observatory keeps track of time and distance in what seems like obscure ways, but these signals are used for some of the most widely trusted and life-critical systems on the planet.  The observatory uses a series of atomic clocks, ranging from hydrogen mazers to cesium fountain clocks, which are averaged into the time signals we all use in synchronizing internet servers and finding our way with the guidance of our phones.  In fact GPS would not be possible without the highly accurate time signals generated by the observatory, as time very literally equals distance when you are a satellite flying overhead at speeds that actually have to account for Einsteinian relativity.

The humble rack servers pumping out one of the most accurate and life-critical time signals in the world
The Naval Observatory is also part of the larger network in the US that includes NIST and several labs around the world that contribute to the international standards of time like Universal Coordinated Time or UTC.  These time standards are defined in collaboration: many of the world's national labs send in how long a second lasts based on their clocks, and these seconds are then averaged to define the second for the month.  But ironically, they do this in retrospect and sometimes add leap seconds, so they only know what the 'second' was last month, not this month.
I am often asked when explaining the 10,000 Year Clock why we do not use an atomic clock, as they are often reported to be accurate to "one second in 30 million years".  But this does not mean they will last 30 million years; it is just a way to explain an accuracy of 10-9 seconds in everyday terms.  These atomic clocks are extremely fragile and fussy machines that require very exact temperatures and deep understanding of atomic science in order to even read them.  They sometimes only last a few years.
Two of the Rubidium Fountain Clocks at the USNO used to create the master time signal
Demetrios was also able to tell me more about some of the long-term timing issues that affect The 10,000 Year Clock.  Because the Clock synchronizes with the sun on any sunny day, one of the effects that we have to take into account is the rate at which the Earth's rotational rate may change from millennium to millennium.  It turns out that the earth's rotation can be greatly affected by climate change.  If the poles freeze in an ice age, and all the water freezes closer to the poles, the earth spins faster.  If the current warming trend continues and the poles melt extensively, the mass of the water around the equator will slow the earth's rotational rate.  All these changes affect where the sun will appear in the sky, and since our clock uses the sun to synchronize, it is an effect we have to account for.  While this was all known to us, there is a counter effect that Demetrios told me about.  It turns out that when there is less water weighing down one of the tectonic plates of the earth, it rises up higher, counteracting some of the mass altered by the shift in water.  We will be investigating this further to see if it changes our calculations.
Many thanks to Demetrios Matsakis for inviting me to the Naval Observatory, it was an honor to present to some of the most technical horologists in the world, and witness the place where the ephemerality of time is pinned down to just "one second in 30 million years".
In March 02006 author and Long Now board member Kevin Kelly shared his thoughts on what awaits us in the next century of science. At the time Kevin was already at work on the book What Technology Wants which would be published 5 years later. If you enjoyed Kevin's 02014 Seminar for Long Now "Technium Unbound", then you'll appreciate this talk as a precursor to his ideas about technology as a super-organism.
Long Now members can watch this video here. The audio is free for everyone on the Seminar page and via podcast. Long Now members can see all Seminar videos in HD. Video of the 12 most recent Seminars is also free for all to view.
From Stewart Brand's summary of the talk (in full here):
Science, says Kevin Kelly, is the process of changing how we know things. It is the foundation our culture and society. While civilizations come and go, science grows steadily onward. It does this by watching itself. [...]

A particularly fruitful way to look at the history of science is to study how science itself has changed over time, with an eye to what that trajectory might suggest about the future.
Kevin Kelly is a former editor of the Whole Earth Review and Whole Earth Catalog. He was the founding Executive Editor at Wired magazine, and his other books include Out of Control and most recently Cool Tools: A Catalog of Possibilities (02013).
The Seminars About Long-term Thinking series began in 02003 and is presented each month live in San Francisco. It is curated and hosted by Long Now's President Stewart Brand. Seminar audio is available to all via podcast.
Everyone can watch full video of the 12 most recent Long Now Seminars. Long Now members can watch video of this Seminar video or more than ten years of previous Seminars in HD. Membership levels start at $8/month and include lots of benefits.
On October 3rd 02014, Stewart Brand delivered the keynote address for the Evernote EC4 conference. Evernote is a service that allows people to collect information, notes, bookmarks, and create a personal searchable database with this collection.
Phil Libin, CEO of Evernote, has been a fan of Long Now for years, which inspired him to introduce a "100-year data guarantee" for all Evernote customers, a rare promise in the rapidly changing tech industry. The company is also known for having a long-term view and intends to be a "100-year startup".
In the video above, Libin introduces Stewart while explaining how influential he and Long Now have been on Evernote's philosophy. Stewart proceeds to give an update on our Revive & Restore project and the de-extinction of the Wooly Mammoth.
Evernote also gave out free copies of Stewart's book The Clock of the Long Now: Time and Responsibility to attendees of EC4.
Tickets are now on sale for the next two Interval salon talks. We end 02014 with talks by two fantastic speakers.
Philip K. Dick is widely acknowledged as one of the most important–and prophetic–science fiction writers of the last century. Since his death in the early 1980s his reputation has grown, first as a cult icon and ultimately into mainstream recognition. Popular awareness has followed from many adaptations of his stories to the big screen including such films as Blade Runner, Total Recall (twice), Minority Report, and A Scanner Darkly.
Erik Davis speaks on 11/18/02014 at the Interval
Erik Davis is an award-winning journalist, author, independent scholar, and lecturer based in San Francisco. His book TechGnosis: Myth, Magic, and Mysticism in the Age of Information (published in 1998 and due in a new edition in 02015) was lavishly praised by Bruce Sterling, Terrence McKenna and Hakim Bey, amongst others.
Erik has been writing about Philip K. Dick since the latter part of the 20th Century beginning with his senior thesis at Yale. He went to on to co-edit The Exegesis of Philip K. Dick and is currently writing a dissertation on "High Weirdness" figures in the early 01970s, including PKD. Tickets are limited and will sell out.The talk is this Tuesday, 11/18.
After speaking for Long Now in a sold out Seminar About Long-term Thinking on the technium, Kevin Kelly will appears at The Interval at a special event featuring his book Cool Tools.
Cool Tools is a highly curated selection of the best tools available for individuals and small groups. Tools include hand tools, maps, how-to books, vehicles, software, specialized devices, gizmos, websites — and anything useful. Tools are selected and presented in the book if they are the best of kind, the cheapest, or the only thing available that will do the job.
Kevin has made it possible for us include a copy of the book with each ticket purchased. At this event you will get a signed copy of Cool Tools plus enjoy an hour program with Kevin discussing the book at Long Now's intimate event space for a special ticket price ($35) which is less than the retail price of the book.
The talk is on Tuesday, 11/25. More on Cool Tools below:
And just as a reminder Cool Tools is both a great gift, and a list of 1000+ gifts. The perfect meta-resource for the holiday season. Not to mention how much fun it is just to you keep it for yourself.
This Wednesday, November 12 02014, the European Space Agency's Rosetta Mission will deploy the Philae lander onto the 67P Comet after over a decade-long journey.  When this mission was first conceived, the ESA asked to put one of Long Now's Rosetta Disks on the craft, making the Rosetta Probe the first off-world long-term archive of human language.
To honor the culmination of this historic mission, ESA has released a short science fiction film imagining the potential legacy of the Rosetta Mission. This dramatic, inspiring short was directed by Tomek Bagiński and co-stars Aidan Gillen (of The Wire and Game of Thrones). It's a reminder of how historic this mission truly is.
You can
watch the live stream
 of the Rosetta Space Probe sending it's lander to Comet 67P, from 6:00am to 9:00am PT on November 12 02014.
Here in the Bay Area, The Long Now Foundation is partnering with the Chabot Space Center and swissnex SF to host a breakfast event at the Chabot Space & Science Center. The event will feature the live stream and our own Dr. Laura Welcher giving a presentation about the Rosetta Disk, as well as Chabot's staff astronomer Ben Burress and a live Skype with Kathrin Altwegg from the European Space Operations Centre, Darmstadt. Doors & breakfast are at 6:00am; tickets and more information can be found here.
On Wednesday, November 12th, Kevin Kelly, a founding Board member of Long Now, will speak on "Technium Unbound," as part of our monthly Seminars About Long-term Thinking. Each month the Seminar Primer gives you some background about the speaker, including links to learn even more.
"Instead of going to university, I went to Asia. That was one of the best decisions I ever made," says Kevin Kelly about following his instincts into the Big Here in the early 01970s.
For someone who is probably best known as a technology pundit, it may be surprising to learn that his formative years were spent traveling in areas where his 35mm camera was often the most advanced technology for miles. But Kevin's work has always been about cultures as well as technologies.
His career as a writer, editor and publisher has coincided with a time of unprecedented technological growth. And Kevin has been associated with many ground-breaking publications and organizations in that time. In 01984 he moved to California to edit CoEvolution Quarterly, which Stewart Brand had founded as a spin-off of  the Whole Earth Catalog. The Quarterly soon was renamed as Whole Earth Review and Kevin served as its editor for the next 6 years. He also edited and published the Whole Earth Catalog for several of its later editions.
During that period Kevin also had a hand in founding The WELL, the influential early online community co-founded by Larry Brilliant and Stewart Brand, and the Hackers Conference. In the mid-90′s he again collaborated with Stewart and became a charter board member of The Long Now Foundation.
In 01992 Kevin joined Wired magazine prior to its launch and became its Executive Editor for the first 7 years of its existence. Wired won two National Magazine Awards during his tenure. He is still on staff at Wired as "Senior Maverick" and writes a few times a year for the magazine.
But let's get back to Asia in 1972. Kevin, then in his early twenties, dropped out after one year of college and set off camera-in-hand to wander throughout Afghanistan, Iran, Indonesia, China, Turkey, Japan, and everywhere in between. He had a drive to document aspects of these cultures that even then it was apparent were beginning to disappear. He lived on about $2,500 a year and shot 36,000 images during that time.
I traveled solo most of the time I was shooting. I had lots of time and no money. I generally spent at least 2 months in a country; some like India and Taiwan I visited many times. I would be gone for years at a stretch. I would leave the US with 500 rolls of film in my backpack.
Years later Kevin created the book Asia Grace (Taschen, 02002) featuring hundreds of these photos. For which he did the layout and design himself. Now you'll find many of those images on Kevin's website for Asia Grace, continuing his tendency to make the books he sells in stores available for free online. You'll find the full text for his books Out of Control and New Rules for the New Economy on Kevin's KK.org site.
Of the cost of buying one of his books, versus reading it page-by-page online, Kevin suggests: Think of this as a printing service, not a book.
The Asia Grace site also includes Kevin's extensive notes about producing the book including the cameras and film he used, his travel practices, and details on the hardware and software for every step of the printing process

photos by Kevin Kelly from Asia Grace
Listing the equipment and methods he used is far from an afterthought. Kevin is always looking for reliable and innovative tools, and he likes to share what he finds. In 02000 he started an email list to post tool recommendations for his friends. That grew into the Cool Tools website, a public resource that continues to thrive. Last year Kevin self-published Cool Tools: A Catalog of Possibilities as a book; it includes info on more than a thousand recommended tools from the site, all submitted by users.
It is Kevin's belief that all types of tools can be "cool":
A cool tool can be any book, gadget, software, video, map, hardware, material, or website that is tried and true.
This broad notion of the tool-ness of everything that humans use is a precursor to Kevin's thinking about the "technium"; he believes all these tools are related systemically. Here's how he described the technium in his 02009 blog post "What Technology Wants" (which became the title of his 02010 book):
The technium is the sphere of visible technology and intangible organizations that form what we think of as modern culture. It is the current accumulation of all that humans have created. For the last 1,000 years, this techosphere has grown about 1.5% per year. It marks the difference between our lives now, verses 10,000 years ago. Our society is as dependent on this technological system as nature itself. Yet, like all systems it has its own agenda. Like all organisms the technium also wants.
In an interview earlier this year with Edge.org, Kevin said: I look at the network of all the technology in the world, past and present, as forming a system that seems to have its own urges and tendencies. Kevin has named his KK.org technology blog The Technium which points to both the importance and ubiquity he attributes to the idea.
Kevin has become one of our most insightful thinkers about technology. A recent New York Times profile called his technology-related predictions "often both grandiose and correct." His writing helps us understand not only the bits and bolts of tech, but how technology and humanity interweave: like his famous idea of 1000 True Fans or his ground-breaking work in self-tracking and the Quantified Self. In 02011 Kevin identified six verbs that would characterize the online future; it's three years in, see how you think he did.
On Wednesday, November 12th, 02014 we'll all have the chance to hear from Kevin what the technium wants next: "Technium Unbound" his Seminar About Long-term Thinking for Long Now at the SFJAZZ Center.

Recently Kevin recounted the story of creating Asia Grace in his talk at The XOXO Festival in Portland, talking to a new generation of creative makers…

photos of Kevin Kelly by Christopher Michel
The Long Now Foundation's monthly
Rick Prelinger presents "Lost Landscapes of San Francisco, 9″
Thursday December 4, 02014 at 7:30pm Castro Theater
Long Now Members can reserve 2 seats, join today! General Tickets $15
About this Seminar:
This year's LOST LANDSCAPES (the 9th year in a row!) will bring together familiar and unseen archival film clips showing San Francisco as it was and is no more.
Blanketing the 20th-century city, from the Bay to Ocean Beach, this screening includes San Franciscans at work and play; peace rallies in Golden Gate Park; early hippies in the Haight; a walk on the incomplete Golden Gate Bridge; newly-discovered images of Playland and the waterfront; families living and playing in their neighborhoods; detail-rich streetscapes of the late 1960s; 1930s color images of a busy Market Street; a selected reprise of greatest hits from years 1-7; and much, much more.
As usual, you'll be the star at the glorious Castro — audience members are asked to identify places and events, ask questions, share their thoughts, and create an unruly interactive symphony of speculation about the city we've lost and the city we'd like to live in.
This lecture was presented as part of The Long Now Foundation's monthly Seminars About Long-term Thinking.
Monday October 20, 02014 – San Francisco
*********************
*********************
The Hundred Year Burn – a summary by Paul Saffo
Stewart Brand's flight from London was delayed causing him to miss this talk, so this months Seminar was hosted by Long Now executive director Alexander Rose, and the write up is by board member Paul Saffo.
Burning Man is like one of those birthday candles you can't blow out," observed Burning Man's primary founder and Chief Philosophical Officer. Indeed, Burning Man has thrived in the face of Burners and skeptics alike declaring it dead after each of its first 25 years. Too big, too fashionable, too many rich people, too hard to get in: each year the rationale changes, and Burning Man continues to thrive.
Half of the secret is simplicity. Consider the Man. Before anything exists on the playa, Burning Man begins with a single stake pounded into the ground marking the spot where the Man will stand. This is the axis mundi of Burning Man, the point on which everything converges, from the radiating streets to the final ritual of the burn. The stake itself is the object of a spontaneous ritual: as it is placed each year, each crew-member gives the stake a few hammer-blows to drive it in.
The other half of Burning Man's secret is transformation. "Just when you are done with one existential challenge, then you encounter another." For example, in recent years, forty percent of Burning Man's population are newcomers. "I am pretty comfortable with that – it is new energy that keeps things very much alive," observed Harvey.
Burning Man is now setting on a course to thrive for another 75 years. Its Ten Principles are the compass and the newly established Philosophical Center is the think tank and "collective memory and conscience" helping guide Burning Man on this 100-year journey. Harvey observed that, "Corporations have a remarkably short life-span, while cities have a remarkably long life-span – drop an atom bomb on it and it comes right back. We will find our way. It always looks dubious when we set out because we are setting out in the dark. But your faith always guides you." Our advice: mark your calendar for the last Monday of August 02090 and sign up early; the tickets are certain to sell out fast.
Subscribe to our Seminar email list for updates and summaries.
On November 12, 02014 from 6:00am to 9:00am PT, you can watch the live stream of the Rosetta Space Probe (which carries our Rosetta Disk) sending its lander, Philae, down to comet 67P.
Here in the Bay Area, The Long Now Foundation is partnering with the Chabot Space Center and swissnex SF to host a breakfast event at the Chabot Space & Science Center. The event will feature the live stream and our own Dr. Laura Welcher giving a presentation about the Rosetta Disk, as well as Chabot's staff astronomer Ben Burress and a live Skype with Kathrin Altwegg from the European Space Operations Centre, Darmstadt. Doors & breakfast are at 6:00am; tickets and more information can be found here.
For over a decade, Long Now has closely watched the European Space Agency's Rosetta Mission as it has orbited the Sun in search of comet 67P and untold scientific breakthroughs. This pioneering space probe was launched in early 02004, maneuvered itself into orbit around comet 67p earlier this year, and on November 12 it will be the first human-made craft to make contact with the nucleus of a comet.
For the latter purpose, the Rosetta probe carries Philae, a small landing craft bristling with scientific instruments and the harpoons and drills necessary to "landing" on a low-gravity object like a comet. At just four kilometers in diameter, comet 67P's gravity is but a millionth of what we feel on Earth, which makes the landing a uniquely challenging endeavor.
While Philae descends towards the comet's surface and immediately after it has touched down, it will perform a bevy of tests and observations in order to send back as much data as possible – via Rosetta, still orbiting the comet – in case any part of this tricky maneuver goes awry and damages or destroys the craft. Assuming the landing and deployment of Philae's instruments goes according to plan, the probe will continue to monitor and study the comet as it approaches the Sun and heats up. At some point in March of 02015, it is expected that comet 67P's proximity to the Sun will cause Philae to overheat, ending its useful life.
While Rosetta has been in orbit around comet 67P, it has been studying the terrain in search of a relatively safe landing spot for Philae. The comet's landscape is characterized primarily by jagged cliffs and boulders, but the ESA team identified five potential options before choosing their preferred target for the November 12, 02014 landing.
The location of the Rosetta Disk on the Rosetta Spacecraft
Near the turn of the century, while the mission was coming together here on terra firma, a member of the ESA team contacted Long Now because of our own
Rosetta Project
.
The ESA's Rosetta probe was inspired by the Egyptian artifact, just as our Rosetta Project was, because of what an essential historical "key" it represented. By allowing linguists and historians to decipher the long-forgotten hieroglyphics of ancient Egypt, the Rosetta Stone "unlocked" the writings of the rich and long-standing culture that built the Great Pyramids, the Great Sphinx and ruled the Nile delta for millennia.
ESA's scientists hope that comet 67P will serve a similar unlocking role for our understanding of life on Earth. It's hypothesized that the molecules that eventually became DNA and gave rise to all living things on our planet came not from the Earth itself, but instead from comets and asteroids of the early solar system. By landing Philae directly onto the comet's surface, scientists will have their first opportunity to directly analyze the material of a cometary nucleus for signs of the ancient organic molecules that can confirm this theory.
Long Now's Rosetta Project has created a micro-etched, nickel disk meant to last thousands of years that houses an archive of human languages so that future archaeologists and linguists might be able to unlock the writings of civilizations whose languages are likely to be lost in coming centuries.
Inspired by the resonance of this hope to unlock knowledge of the past and future, the ESA team offered to put a copy of the Rosetta Disk on the Rosetta Probe and at this very moment an archive of 1,500 human languages is floating out among the solar system, in orbit around comet 67P.

Karen Marcelo photo by Jay Bain
Programmer, artist, and founder of dorkbot SF, Karen Marcelo discusses the tradition of San Francisco Bay Area technologically-minded artists and hackers in the past, present and future. For decades a curious creativity has thrived in the shadows of the high tech industry's most famous valley. More J. G. Ballard than VC Capital. Un-monetized, non-productized, often subversive and sometimes in fact quite dangerous. Karen has been creating work herself and curating a community of tech makers and re-animators from way before 3-D printers, Maker Faire, or Arduinos existed.
From San Francisco to Silicon Valley, since at least the late 01970s when Survival Research Labs was founded, the wealth of technological know-how and hand-me-down / cast-off resources in the area have led to all kinds of artistic endeavors of decidedly uncommercial sorts. Made by people with day jobs in mainstream tech firms or outsiders with an axe to grind, there's a rusty cutting edge at the back of the tech startup garage. On Tuesday we'll talk about it and The Interval.
Come hear about the history of loud, fiery machines and hacker artists in San Francisco and surrounding areas from someone at the center of the noise for years. Karen will talk about tech and art projects including her own work with Survival Research Labs and organizing dorkbot SF for more than a decade.
Our Interval event series tends to sell out ahead of time, so get your tickets now!  Donate to The Interval and you'll be on our early notification list for all of our Tuesday salon talks.
---