Karen Marcelo photo by Jay Bain
Programmer, artist, and founder of dorkbot SF, Karen Marcelo discusses the tradition of San Francisco Bay Area technologically-minded artists and hackers in the past, present and future. For decades a curious creativity has thrived in the shadows of the high tech industry's most famous valley. More J. G. Ballard than VC Capital. Un-monetized, non-productized, often subversive and sometimes in fact quite dangerous. Karen has been creating work herself and curating a community of tech makers and re-animators from way before 3-D printers, Maker Faire, or Arduinos existed.
From San Francisco to Silicon Valley, since at least the late 01970s when Survival Research Labs was founded, the wealth of technological know-how and hand-me-down / cast-off resources in the area have led to all kinds of artistic endeavors of decidedly uncommercial sorts. Made by people with day jobs in mainstream tech firms or outsiders with an axe to grind, there's a rusty cutting edge at the back of the tech startup garage. On Tuesday we'll talk about it and The Interval.
Come hear about the history of loud, fiery machines and hacker artists in San Francisco and surrounding areas from someone at the center of the noise for years. Karen will talk about tech and art projects including her own work with Survival Research Labs and organizing dorkbot SF for more than a decade.
Our Interval event series tends to sell out ahead of time, so get your tickets now!  Donate to The Interval and you'll be on our early notification list for all of our Tuesday salon talks.
It started with a seed planted in the mind of Scottish artist Katie Paterson when she made the connection between tree rings and chapters of books. Now several years in the making, Paterson's vision will unfold over the next century in her artwork Future Library–an ambitious and evolving piece that will outlive Paterson and most of us living today.
Photo by Giorgia Polizzi
In the summer of 02014, Paterson and her team planted 1,000 Norwegian Spruce saplings in the forest Normarka, situated just outside of Oslo. The site is about a 25-minute walk from a metro station, yet according to Paterson, feels deep within the forest and has no city sounds.
Photo by Giorgia Polizzi
These trees will supply the paper for an anthology of books to be printed in a hundred years' time, when the saplings are fully grown. In the meantime, one writer every year will be invited to add a new text to the collection of unpublished, unread manuscripts held in trust at the New Public Deichmanske Library in Bjørvika until their publication date in 02114. The text can take on any length, form, and genre. The only request is to have the work submitted by manuscript within one year of invitation. As the trees grow, so does the collection. Katie Paterson explained:
The idea to grow trees to print books arose for me through making a connection with tree rings to chapters – the material nature of paper, pulp and books, and imagining the writer's thoughts infusing themselves, 'becoming' the trees. Almost as if the trees absorb the writer's words like air or water, and the tree rings become chapters, spaced out over the years to come…This artwork will bring together the work of preeminent writers, thinkers and philosophers of this and future generations. It is an artwork that belongs not only to us and the City of Oslo now, but to these who are not yet born.
With the forest planted, the next key part of the Future Library is designing the Silent Room to house the unpublished texts in the New Deichmanske Library, which will open in 02018. In collaboration with the library's architects Lund Hagem and Atelier Oslo, Paterson is specially constructing this room from the cut-down trees recently cleared for the Future Library saplings.
Photo by Giorgia Polizzi
The Silent Room will be located on the top floor of the library – the floor that houses the library's special collection of books and archives. The small, intimate room will be geared for one or two people; it will face the forest, awaiting the growth of the trees and providing a view of where, in essence, the books are developing. The other aspect of the texts–the unpublished manuscripts–will be contained here with only the authors' names, the title of their work and the year visible to visiting patrons. Katie Paterson explained:
The atmosphere is key in our design, aiming to create a sense of quietude, peacefulness, a contemplative space which can allow the imagination to journey to the forest, the trees, the writing, the deep time, the invisible connections, the mystery.
As is the case with any long-term project, questions of trust dominate the design of Paterson's Future Library. Planning a project with a timescale of 100 years provides many challenges, such as the consideration of tree types, native Norwegian pests, climate, or potential fires; communicating across time; ensuring access to a printing press (one will be stored in Oslo and workshops will be held for the next generations in printing and binding books); and crafting 100-year contracts with lawyers. How will the library room be looked at and experienced in a century? How will the materials react over the decades to come? What languages will people be speaking in 02114? What kind of technologies will exist? What will be the status of the printed book, the written word? Paterson asked herself 100-year-timespan questions such as these with every decision made for Future Library. It involves thinking and developing on a timespan that transcends most conventional artwork. Paterson explained:
The works like Future Library really slow the pace down, to over a century. There is still constant movement within the artwork; inviting authors, the library room design, trust meetings, forest tending, yearly events, the writing, even the tree rings forming. Future Library will evolve and live over 'long time' and over 'now' simultaneously…I like the idea that time is substance, that can be manipulated and invented. I certainly see time as non-linear – reaches of time, webs, loops, networks, holes – and visualize time growing and existing like a cell or a wave, expanding and contracting. Future Library is marked out by yearly demarcations and these 'chapters' keep it fluid.
Future Library was conceived by Paterson, is commissioned and supported by the Bjørvika Utvikling urban development project, and produced by the Bristol-based arts producer Situations. A Future Library Trust has been established to help sustain Future Library for its 100-year duration. It consists of seven members, including the literary director of the Man Booker Prize. Its members will change decade by decade, and they are the ones to invite the 100 authors, whose names will be announced year by year. The authors are being selected for their "outstanding contributions to literature or poetry and for their work's ability to capture the imagination of this and future generation."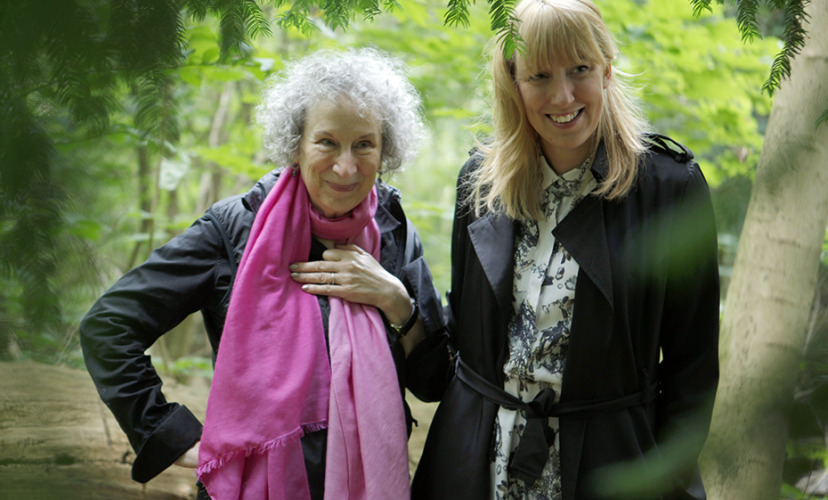 Photo by Giorgia Polizzi
This month, award-winning author Margaret Atwood was named as the first contributor to the Future Library. The author of novels such as Daughters of the North and Oryx and Crake (both of which will be included in Long Now's own Manual for Civilization) is in many ways ideally suited for a collection like Future Library: much of Atwood's work explores human lives and lived experience in a variety of possible futures. As Paterson explains,
[Atwood] is incredibly perceptive, continually writing about prescient subjects and her work speaks across generations, across time. She writes about time and catapults her readers to a future time and place, projecting unsettling, strange, dystopian worlds. Her work has so much to say about us alive now and futures we are building as a species.
Atwood has already started writing the tale that only she will read during her lifetime.
When asked about the content of her story in an interview with the Louisiana Channel, Atwood stated that wild horses could not drag it out of her:
I think it takes us to that period of childhood when we used to bury things in secret locations and hope that somebody would come and dig them up. Or that other period when we put messages in bottles and put them into the ocean. But essentially that's what writing is anyway, so publishing a book is like a message in the bottle and throwing it in the ocean because you never know who will read it. And writing and publishing a book is also like time travel because the book is a vehicle for the voice, and it doesn't turn into a voice again until somebody at the other end reads it. So in this case, the filament between the launching of the book and the turning of the book back into voice just happens to be longer than usual.
On a cosmic timescale, a span of 100 years is fleeting and insignificant. "However, in many ways the human timescale of 100 years is more confronting," Paterson explains. "It is beyond many of our current life spans, but close enough to come face to face with it, to comprehend and relativize."
What can help us confront and comprehend this short-yet-long timespan is, perhaps, a sense of hope and optimism. The Future Library project, for its part, tries to encourage these perspectives. In her reply letter to her Future Library invitation, Atwood wrote, "This project, at least, believes the human race will still be around in a hundred years!" Paterson expands upon Atwood's statement in her own words:
In its essence, Future Library is hopeful – it believes there will be a forest, a book, and a reader in 100 years. The choices of this generation will shape the centuries to come, perhaps in an unprecedented way. Inside the forest time stands still. This place could have existed for one hundred, one thousand, one million, or even one hundred million years. I take comfort in the natural processes that have unfolded over such enormous expanses of time. Imagining the plethora of living beings that have evolved in its ecosystem. The earth itself has a predicted lifespan of another few billion years, and there are millions of other planets and galaxies. Life in this universe will continue to exist.
Photo by Giorgia Polizzi

Alexander Rose photo by Christopher Michel
Late in the last millennium, Danny Hillis told a small group of friends about his idea for building a monument-scale clock that would last for 10,000 years. The group included Stewart Brand, Kevin Kelly, and Brian Eno – and the conversations that followed led to the founding of The Long Now Foundation in 01996. Ever since then, Long Now has worked to bring the Clock into reality.
Alexander Rose has been there almost from the start. The first employee of Long Now, he assisted Danny Hillis in early design work. Now he is the Foundation's Executive Director and serves as the project manager for the full-sized Clock construction which is now underway in Texas. In his talk at The Interval he will discuss both the beginnings of the Clock project and where we are today.
The Clock has been built slowly, methodically, with a dedication to doing it right for the long term. And without a short-term deadline. The design process has been slow and painstaking. Our prototypes are built from the highest-quality materials and feature hand-crafted custom work. Our durability testing approximates the wear of slow moving mechanisms running for thousands of years.
Tickets are still available but space is limited and this talk will sell out
This talk will also include the lessons that Long Now's team has learned from studying these previous millennial design projects. Alexander has travelled the world researching other projects designed to last for a thousand years or more. These include the Svalbard Global Seed Vault, the Granite Mountain Records Vault built by the Mormon Church, and most recently Ise Grand Shrine in Japan.
Alexander Rose is Executive Director of The Long Now Foundation and project manager of the construction of the full-sized 10,000 Year Clock which is now underway in West Texas.
Alexander's combat robots have won six world championship titles and appeared in the TV show BattleBots. Alexander has built large pyrotechnic displays for the Burning Man festival, robotic bartenders, and other dangerous machines. He is part of the Thiel Fellowship Network, and founded the Robot Fighting League.
About two years ago, we shared with you a set of enhanced photographs that visualized the transformation of World-War-II-era Leningrad into contemporary St. Petersburg.
We recently came across a similar photographic experiment in picturing historical change. The temporal lapse is similar: this interactive series compares 1940s images of European sites that played an important role in World War II history with their contemporary counterparts. There is no stitching together of old with new in these images; instead, your mouse performs the magic of time travel, revealing the new in place of the old as you drag it to the right.
Nevertheless, these photos have the same effect of making visible, even tangible, the radical transformations that a locale can undergo in the fleeting span of a half century – while simultaneously highlighting the endurance of its sense of place.
What captures your imagination about the future of libraries?
That's the question asked by The Knight Foundation in an open call for innovative library projects. There have been 680 proposals from around the country, and only a few days remain to give feedback and "Applaud" your favorites.  We think our Manual for Civilization project fits well with The Knight Foundation's News Challenge funding goal:
We view libraries as key for improving Americans' ability to know about and to be involved with what takes place around them. The library has been a vital part of our communities for centuries—as keepers of public knowledge, spaces for human connection, educators for the next generations of learners. While habits are changing, those needs have not. We want to discover projects that help carry the values of libraries into the future.
Take a moment to read our proposal, comment, and click the Applause button to show your support for the Manual for Civilization. Many projects will be funded to fulfill the News Challenge's aim of [accelerating] media innovation by funding breakthrough ideas in news and information. Your applause could help the Manual be one of them.
The Manual for Civilization is a crowd-curated library of the 3500 books most essential to sustain or rebuild civilization. Knight Foundation funds will help us complete our collection of books–including many rare, hard-to-find titles. It would also support live events to engage the community and online initiatives providing broader access to the project. Read more on the News Challenge website.
"The Holocene is over and welcome to the Anthropocene our very uniquely human geological era." In March 02012 environmental activist and author Mark Lynas gave a sobering assessment of Earth in the Anthropocene.
Lynas offers a framework for tracking the health of our planet, outlining nine measurable "boundaries" that if crossed threaten the well-being of humans on Earth. And some already had been crossed in 02012. These systems go beyond climate and biodiversity to measures like ocean acidification, atmospheric aerosols, and excess nitrogen in agriculture.
Long Now members can watch this video here. The audio is free for everyone on the Seminar page and via podcast. Long Now members can see all Seminar videos in HD. Video of the 12 most recent Seminars is also free for all to view.
From Stewart Brand's summary of the talk (in full here):
We've raised the temperature of the Earth system, reduced the alkalinity of the oceans, altered the chemistry of the atmosphere, changed the reflectivity of the planet, hugely affected the distribution of freshwater, and killed off many of the species that share the planet with us. [...] Some of those global alterations made by humans may be approaching tipping points—thresholds—that could destabilize the whole Earth system.
Mark Lynas' books include Six Degrees (which Stewart Brand called one of the finest books written on climate), The God Species: How the Planet Can Survive the Age of Humans, and most recently Nuclear 2.0: Why a Green Future Needs Nuclear Power (02014). He is a member of the World Economic Forum's Global Agenda Council on Decarbonising Energy, which focuses on sustainable energy to mitigate climate change.
The Seminars About Long-term Thinking series began in 02003 and is presented each month live in San Francisco. It is curated and hosted by Long Now's President Stewart Brand. Seminar audio is available to all via podcast.
Everyone can watch full video of the 12 most recent Long Now Seminars. Long Now members can watch this video in full-—you must be logged in to the site—and the full ten years of Seminars in HD. Membership levels start at $8/month and include lots of benefits.
The Long Now Foundation's monthly
Kevin Kelly presents "Technium Unbound"
Wednesday November 12, 02014 at 7:30pm SFJAZZ Center
Long Now Members can reserve 2 seats, join today! General Tickets $15
About this Seminar:
What comes after the Internet? What is bigger than the web? What will produce more wealth than all the startups to date? The answer is a planetary super-organism comprised of 4 billion mobile phones, 80 quintillion transistor chips, a million miles of fiber optic cables, and 6 billion human minds all wired together. The whole thing acts like a single organism, with its own behavior and character — but at a scale we have little experience with.
This is more than just a metaphor. Kelly takes the idea of a global super-organism seriously by describing what we know about it so far, how it is growing, where its boundaries are, and what it will mean for us as individuals and collectively. Both the smallest one-person enterprises today, and the largest mega-corporations on Earth, will have to learn to how this Technium operates, and how to exploit it.
Tonight, October 15th 02014, former SALT Speaker Steven Johnson's new TV series premieres on PBS. The show, "How We Got To Now", is co-produced by PBS and BBC, and focuses on different themes showing how long cumulative efforts can result in massive systemic change. The first of the six episodes, "Clean", focuses on how sanitary conditions evolved from concept to reality, and how this reality affects public health and entire industries.
Steven Johnson has worked on many different topics throughout his career, and he draws on all of these topics in this series. However, it is his study of the history of technology that anchors the show. One of Steven's major contributions to this field is popularizing network-based approaches to understanding history and new technologies. For example, to understand the lightbulb, one needs to look beyond Thomas Edison and understand the environmental conditions, contemporaneous technologies, and networks of scientists corresponding across the globe. Once these factors are taken into account, innovation stops looking like "eureka moments" and instead becomes anchored in effective networks, collaborations, and the slow incubation of ideas. In the following animation, Steven Johnson explains this process and how it can help us think about technology and innovation now:
Check your local listings to watch "How We Got To Now", and keep a look out for some Long Now references throughout the series.
On Monday, October 20th, Larry Harvey speaks for Long Now on "Why The Man Keeps Burning," as part of our monthly Seminars About Long-term Thinking. Each month the Seminar Primer gives you some background about the speaker, including links to learn even more.
Burning Man started with humble beginnings in 01986 with 20 people on a beach. Twenty-eight years later, it's one of the premiere arts festival in the country, with over 66,000 people attending annually, dozens of satellite events, and a vibrant international community. In one sense, Burning Man is an event that only happens for one week per year in a remote desert in Nevada. In another sense, it's a massive global phenomenon that supports thousands of artists, causes, and technologies.
What sets Burning Man apart from other large-scale festivals is its focus on participation. The organizers set up the infrastructure of "Black Rock City" (including roads, portapotties, ice, DMV, medical, post offices, etc.) and then attendees become the citizens and bring life to the desert through hundreds of art pieces, mutant vehicles, and theme camps. This personal investment of time, money and creativity by participants far exceeds what the the festival organizers could do if they were planning the Burning Man event in the traditional sense.
How does something as outrageous as a temporary city of art built in the middle of the desert come about? It all began on a small beach in San Francisco and an "event" organized by Larry Harvey and a group of his artist, prankster friends. In 01986 the first wooden figure they built was only 8-feet tall. The attendees were all members of the San Francisco Cacophony Society, a group of artists and mischief makers also associated with Santarchy, urban exploration, and Art Cars. The beach version of Burning Man became an annual event, but was subsequently shutdown by local authorities.
Harvey and others made the decision to relocate the event to the dramatic but inhospitable environment of the Black Rock Desert in Pershing Country, Nevada. This changed the scale of the event and opened up a world of possibilities for Burning Man to become the festival it is today. It has grown in size, budget, ambition, and notoriety virtually every year since moving to Nevada. Along the way it went legit, fully permitted and coordination with county governments and the Bureau of Land Management.
And through it all Larry Harvey has been a part of steering and scaling up this arts oasis in the desert. He serves as Burning Man's Chief Philosophical Officer and authored the Ten Principles in 02004, guidelines which reflect "the community's ethos and culture" and assure Burning Man a reference point as it grows in Black Rock and all over the world. Harvey continues also as founding Board Member of the Burning Man Art Project and Chairman of the Board of the Black Rock Arts Foundation.
There have been rough spots along the way, as the man has grown from eight to over 100 feet and a 20 person party on the beach has become 60,000+ paying hundreds of dollars per ticket. Over the years much has changed and many issues have stirred concern in the community that the festival could be destroyed by some new policy or other development: "Scaling up will kill Burning Man."  "That new rule will kill Burning Man."  "The Bureau of Land Management will kill Burning Man."  "Selling tickets that way will kill Burning Man."  "Board infighting will kill Burning Man."  "Upscale turnkey camps will kill Burning Man."
It turns out none of these things killed Burning Man, and Burning Man shows few signs of slowing down. The Black Rock Arts Foundation (BRAF) gives hundreds of thousands of dollars in grants every year to Burning Man projects as well as public art projects in San Francisco and around the world. The "regional burns" have created strong communities globally based around smaller satellite festivals which take cues from the Ten Principles.
A few examples of the art that BRAF has helped make possible:
Join us on Monday, October 20th at SFJAZZ Center as Larry Harvey, who has been there from the beginning to the present, tells the story of Burning Man and shows us how we can find long-term thinking in a reoccurring temporary city.
This Seminar is sold out, but there will be a walk-up line for released tickets.
This Sunday, October 12, The Interval hosts a special event to celebrate the posthumous release of Leonardo's Brain: Understanding Da Vinci's Creative Genius by Leonard Shlain. Leonardo's Brain looks at the life, art and mind of 15th century Florentine polymath Leonardo da Vinci. Shlain's book considers Da Vinci as a glimpse into the future of what our species can become; it was completed shortly before Dr. Shlain's death in 02009.
Book release event at The Interval for
"Leonardo's Brain" by Dr Leonard Shlain
Sunday October 12, 02014 all day
10am to 5pm: Dr. Shlain's lectures will be screened at The Interval
5pm: Readings from "Leonardo's Brain"
Free and open to the public
The event will feature readings by Leonard Shlain's three children who were instrumental in bringing his final book to publication: Kimberly Brooks, artist and founding editor of the Arts and Science Section of the Huffington Post; Jordan Shlain, doctor and founder of Healthloop.com; and Tiffany Shlain, Emmy-nominated filmmaker, founder of The Webby Awards and director of the show "The Future Starts Here."
Dr. Shlain's books including "Leonardo's Brain" will be on sale throughout the day
NOTE: this is Fleet Week in San Francisco, with an air show featuring the Blue Angels on Sunday (12:30-4pm) prior to our 5pm program. The Marina and Fort Mason are great places to watch the show, before or after coming by The Interval.
Praise for Leonardo's Brain and the work of Leonard Shlain:
"By exploring Leonardo da Vinci's brain through the lens of contemporary neuroscience, Leonard Shlain not only celebrates da Vinci's legendary creativity, he shows how we can integrate and strengthen both sides of our minds and tap into the amazing possibilities within ourselves." —Arianna Huffington

"Shlain's ability to synthesize not only information but also genuine wisdom across multiple and disparate disciplines was extraordinary." —Al Gore

"This book is a gift from the heavens where Leonard Shlain is today and another bright example of his force and spirit shining through the prism of the mind of Leonardo da Vinci." —Norman Lear
Leonard Shlain was an author, inventor and surgeon. His books take a long view across time and include the best-selling titles Art & Physics, Alphabet vs. The Goddess and Sex, Time, and Power.
This is the first of 3 events around the country marking the release of Leonard Shlain's final book. The others are in New York City on October 20th and Los Angeles, November 2nd.
---