On Thursday, September 17th, Alexander Rose (Executive Director of Long Now) will give a talk on how to design for 10,000 years, including how he approached many of the unique design challenges of The Clock.
Thursday, September 17th
5:30 – 7:30 pm
Lincoln Recital Hall (PSU)
1620 SW Park Avenue
Much like ants, termites are a testament to the adage that a whole is greater than the sum of its parts. A single termite is an almost translucent creature, no more than a few millimeters long. But put several thousand of them together, and they become capable of building expansive structures, some reaching up as high as 17 feet.
Moreover, a recent discovery suggests that some termite mounds are not only very tall, but also very old. A joint Belgian-Congolese team of geologists carbon-dated a set of four mounds in the Congo's Miombo Woods, and found them to be between 680 and 2200 years old. Though the oldest of these had been abandoned centuries ago, the researchers infer from their findings that some species of termites can inhabit one and the same structure for several hundreds of years. This far exceeds the lifespan of any one colony (which matches that of its queen), suggesting that a kind of intergenerational inheritance passes the mound from one queen to the next.
Swarm intelligence, it seems, leads not only to highly organized labor and solid engineering, but also to long-term thinking.
This short documentary tells the story of Marie Wilcox, the last fluent speaker of the Wukchumni language and the dictionary she created in an effort to keep her language alive. Long Now's PanLex project collects dictionaries such as these with the goal of creating a universal translation engine and fighting language extinction.
This week's episode of Singularity Hub's Ask an Expert features Long Now Board member Paul Saffo.
Ask an Expert is a new web series in which, well, experts answer tweeted questions about the future of technology. In this episode, Paul discusses virtual reality, weighs in on the word 'disrupt', and considers the possibility of having a wooly mammoth for a pet – with a quick shout-out to Long Now's Revive & Restore project.
To see more videos in the Ask an Expert series, you can visit this page. And if you have a question of your own, you can tweet it to @singularityu with the hashtag #AskSU.
The Long Now Foundation's monthly
Saul Griffith on "Infrastructure and Climate Change"
Monday September 21, 02015 at 7:30pm SFJAZZ Center
Long Now Members can reserve 2 seats, join today! General Tickets $15
About this Seminar:
So far we are trying to deal with climate change at the wrong time scale. A really deep problem cannot be solved by shallow innovations, no matter how clever. The scale of climate change requires thinking and acting in multi-decade terms at the level of infrastructure—personal as well as societal. Get it right, and "the result can be like living in a beautifully managed garden."
Saul Griffith is an inventor and meta-inventor, currently founder of Otherlabs in San Francisco (devising such things as soft robotics, soft exoskeletons, cheap solar tracking, and conformable gas tanks.) He is a MacArthur Fellow and frequent TED dazzler. His 02009 SALT talk on Climate Change Recalculated is the most viewed video in our twelve-year series.
The South China Morning Post recently published an infographic that colorfully illustrates the distribution of the world's most commonly spoken languages.
With data taken from Ethnologue and UNESCO, among other sources, the graphic offers a variety of ways to understand global language patterns – from visualizing which languages have the largest number of native speakers, to which country boasts the greatest amount of linguistic diversity.
You can explore the full graphic in all its detail on the South China Morning Post's website.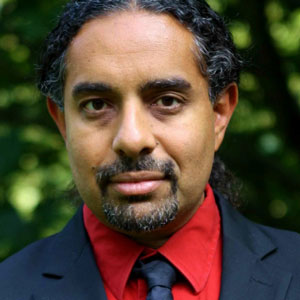 This lecture was presented as part of The Long Now Foundation's monthly Seminars About Long-term Thinking.
Wednesday July 22, 02015 – San Francisco
*********************
*********************
Enhancing humans and humanity – a summary by Stewart Brand
Beginning with the accelerating pace of biotech tools for human health and enhancement, Naam noted that health issues such as disease prevention will be drastically easier to implement than enhancement. Preventing some hereditary diseases can be done with a single gene adjustment, whereas enhancement of traits like intelligence or longevity entails the fine tuning of hundreds of genes. He favors moving ahead with human germline engineering to totally eliminate some of our most horrific diseases.
Over time he expects that human gene editing will lead in the opposite direction from the enforced conformity depicted in Brave New World and the film "Gattaca." Instead people will relish exploring variety, and the plummeting costs of the technology will mean that the poor will benefit as well as the rich.
Naam's brain discussion began with the Sergey Brin quote, "We want Google to be the third half of your brain." Brain interface tools are proliferating. There are already 200,000 successful cochlear implants which feed sound directly into the nervous system. There is a digital eye that feeds pretty good visual data directly to the brain via a jack in the side of the user's head. There is a hippocampus chip that can restore brain function in a rat.
Rat brains have been linked so that what one rat learns, the other rat knows. The paper on that work was titled "Meta-organism of Two Rats on the Internet." Humans also have been linked brain to brain at a distance to share function. Zebrafish have been lit up to show all their neurons firing in real time. Coming soon is the deployment of "neural dust" that can provide ultrasonic communications with tens of thousands of neurons at a time.
How profound are the ethical issues? Naam observed that we already have many of the attributes of telepathy in our cell phones and smart phones. They came so rapidly and cheaply that they erased most of the concerns about a "digital divide." Half of the world is now on the Internet, with the rest coming fast. And rather than a divider, the technology proved to be an equalizer and a connector, fostering economic growth and the rapid spread and sifting of ideas.
Digital connectivity, he argued, is widening everyone's "circle of empathy." A viral video started the Arab Spring. Viral videos are changing how everyone thinks about race in America. These technologies, he concluded, are making humans more humane.
One question from the audience inquired about the origin of so much reference in the Nexus series to group meditation as the epitome of mind sharing. Naam noted that Buddhists, including the Dalai Lama, are highly interested in brain science, and his own experiences of the ecstacy of mind sharing were at a rave at Burning Man and a ten-day Vipassana Meditation Retreat in Thailand.
I asked if he agreed with the current round of panic about superintelligent artificial intelligence posing an existential threat to humanity. He said no. The dark scenarios imagine an AI so smart it implements new and grotesquely harmful pathways to solve a poorly contextualized problem. Naam pointed out that "Software almost never does anything well by accident." (A flock of Tweets burst from the theater with that line.) And the dark scenarios imagine an isolated rogue super-capable AI. In reality nothing really capable is developed in isolation.
Subscribe to our Seminar email list for updates and summaries.
A sense of perspective is unavoidable from 22,000 miles out. Looking down at Earth from that distance — almost three times farther than the diameter of the planet itself — allows a view of the globe as a massive organic system, pulsing with continuous movement. (NY Times)
Last month, Japan's new Himawari-8 weather satellite began sending data back to Earth. Launched in late 02014 to help track storm systems and other weather patterns in the Pacific Rim, it looks down on Earth from a geostationary orbit, at about 36,000 kilometers (or 22,000 miles) from the surface.
Its considerable distance from Earth isn't necessarily surprising; most weather satellites do their work in high earth orbit. But what makes Himawari-8 unique among its colleagues is the fact that it is capable of taking full-color photos of the entire planet. Every day, it sends 144 of these "living portraits" back down to Earth – or one photograph every ten minutes.
With an unprecedentedly high resolution that can visualize features as small as 500 square meters, these images will help scientists better understand the genesis, evolution, and outcome of large-scale weather patterns. But on a broader level, the pictures Himawari-8 sends back can't help but awaken in us what the Planetary Collective has called the Overview Effect: the combined sense of awe and oneness that seems to come over us all when we see images of the whole Earth, framed by the blackness of space.
The data Himawari-8 produces is meant to help us better grasp the ever-changing, fleeting, and highly localized behavior of the Pacific atmosphere. But it also offers us a reminder to step outside of ourselves and consider the fact that we ultimately inhabit a very small corner of a much larger unit of space and time.
On the face of it, earthquakes seem to present us with problems of space: the way we live along fault lines, in brick buildings, in homes made valuable by their proximity to the sea. But, covertly, they also present us with problems of time. The earth is 4.5 billion years old, but we are a young species, relatively speaking, with an average individual allotment of three score years and ten. The brevity of our lives breeds a kind of temporal parochialism—an ignorance of or an indifference to those planetary gears which turn more slowly than our own.
A sobering article detailing the science, infrastructure, and politics behind preparing for a once-a-several-century earthquake from Kathryn Schulz at The New Yorker.
On July 24-26, the World Future Society's annual conference WorldFuture 2015: Making the Future will be taking place at the Union Square Hilton in San Francisco. Speakers include Long Now Board Members Peter Schwartz & Paul Saffo and Seminar Speakers Rusty Schweickart & Ramez Naam.
Long Now Members get a 20% discount on tickets on single days & the full conference, please check your email for the discount code for the conference.
Founded in 01966, the World Future Society (WFS) is the longest-running global membership organization for futurists and the foresight minded.  Its mission is to improve decision-making about the future by empowering futurists, fostering networks, and advancing knowledge and action on future critical issues.
Every summer, WFS hosts their annual conference, WorldFuture. Designed to bring futurism to the mainstream and introduce a new entrepreneurial generation to the power of foresight, Making the Future reflects the intersection of foresight and action: three days of diverse, interactive sessions designed to unite hundreds of attendees identifying and addressing future-critical issues.. This year, WFS welcomes Long Now Members to join them with  special offers, from whole conference discounts to one-day passes and free entry for students living at home for local residents.
The World Future Society Annual Summer Conference
July 24-26, 2015
Union Square Hilton Hotel
worldfuture2015.org
---