Posted on Wednesday, May 20th, 02015 by Andrew Warner
link Categories: Announcements, Seminars chat 0 Comments
The Long Now Foundation's monthly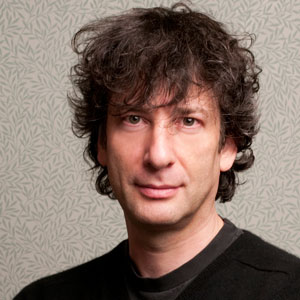 Neil Gaiman presents "How Stories Last"
Tuesday June 9, 02015 at 7:30pm Castro Theater
Long Now Members can reserve 1 seat, and purchase a second ticket for half price ($15) join today! General Tickets $30
About this Seminar:
Neil's talk will explore the way stories, myths and tales survive over great lengths of time and why creating for the future means making works that will endure within the oral tradition.
Preternaturally eloquent, Neil Gaiman has told stories in every medium—graphic novels (The Sandman), novels (The Ocean at the End of the Lane; American Gods), short stories (Trigger Warning), children's books (The Graveyard Book), television (Dr Who), the occasional song ("I Google You", with Amanda Palmer), and the occasional speech that goes viral ("Make Good Art").
Members can reserve one complimentary ticket, and purchase one additional ticket for $15.00 (50% off of the General Admission ticket price).
Photograph of Neil Gaiman by Kimberly Butler